Imaging for a Hamstring Strain?
Do we NEED imaging after a hamstring strain?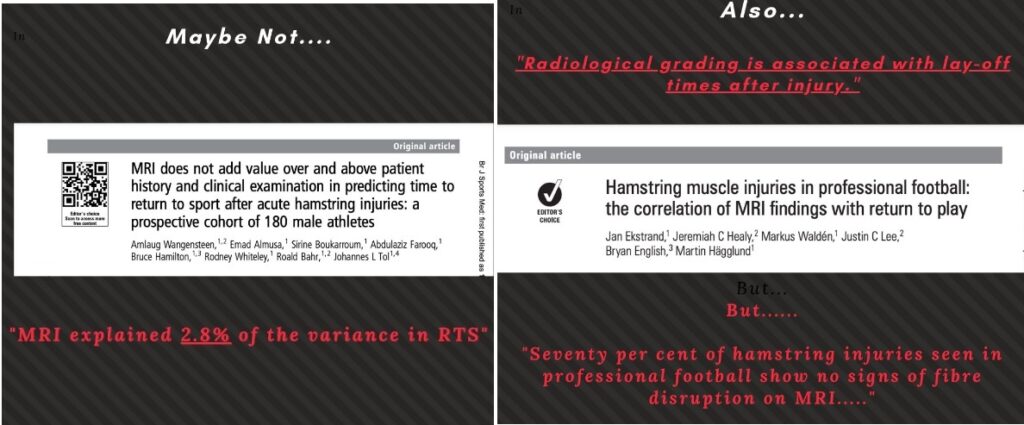 Short answer of course is it depends. 
There is no clear consensus on best practice here. Several studies show that the amount of fiber disruption likely contributes to time to RTS. Other studies like Wangensteen et. al  showed that it only contributed 2.8% predictive value when looked at using a multivariate analysis. Other concerns here would be identifying proximal or distal tendon disruption as this can certainly slow down the RTP process and may influence decision making for progression timing and sequencing.  Overall, per Ekstrand et. al 2012, ~ 70% of injuries sustained in professional soccer did not show fiber disruption on imaging. This large percentage of Grade 0 to Grade 1 strains likely contributes to the low power of imaging. 
In our opinion, imaging may be indicated when:
The physician orders it

There is a clear demand to define ANY possible delays in "typical" timeline to stakeholders

The rehab is not following a typical progression or presents more severe than the norm

Pain is focused in the proximal or distal tendon
When in doubt- refer out and get a 2nd opinion! 
Want more info on best practices and nuanced clinical decision making for hamstring strain injuries? Check out our new Hamstring Strain Accelerator Course– which is now approved for .6 CEUs in 40+ States for Physical Therapists. Get all the Details and Start HERE