Welcome to the Blueprints Course! Thank you for registering and we look forward to meeting you!
This page will serve as a home base for information, manuals, and other resources for the Blueprints In-Person Course.
Emails & other Communication will be sent out prior to your registered course.
Please print and/or download the documents to the side prior to the course as needed (Course Manual, Lab Outline, and Schedule)
We will NOT provide hard copies on-site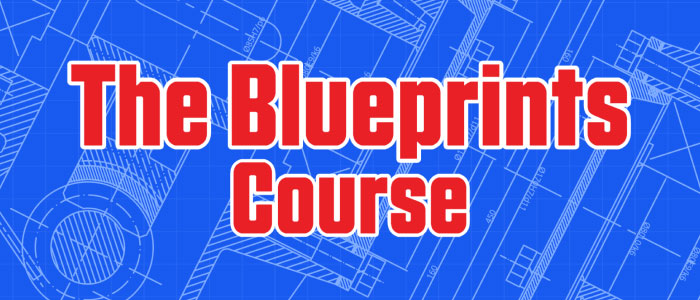 PLEASE DOWNLOAD/PRINT THE FOLLOWING DOCUMENTS
DAY 1
(7:30-8:00)

Doors Open & Check-In (Sign Waiver & Confirm CEUs)

(8:00-8:30)

Intro

(8:30-10:30)

Why Blueprints Lecture: Principles > Methods
(10:30-11:15) Phases of Rehab

(11:15-12:00)

Criteria Based Testing Lecture

(12:00-1:00)

Lunch & Networking (Break for Lunch)*

(1:00-2:00)

Criteria Based Testing Lab

(2:00-2:30)

Movement Options Lecture

(2:30-3:30)

Movement Options Lab

(3:30-4:00)

Strength Lecture

(4:00-4:45)

Strength Lab

(4:45-5:00)

Day 1 Wrap-Up
DAY 2
(7:30-8:00) Doors Open & Check-In

(8:00-9:00)

Day 1 Review and Q&A

(9:00-9:30)

Locomotive Lecture

(9:30-11:00)

Locomotive Lab

(11:00-11:45)

 Plyometric Lecture*

(11:45-1:30)

Plyometric Lab

(1:30-2:00)

Discussion Questions

(2:00-2:45)

Case Studies

(2:45-3:00)

Day 2 Recap, Closing Remarks & Final Q&A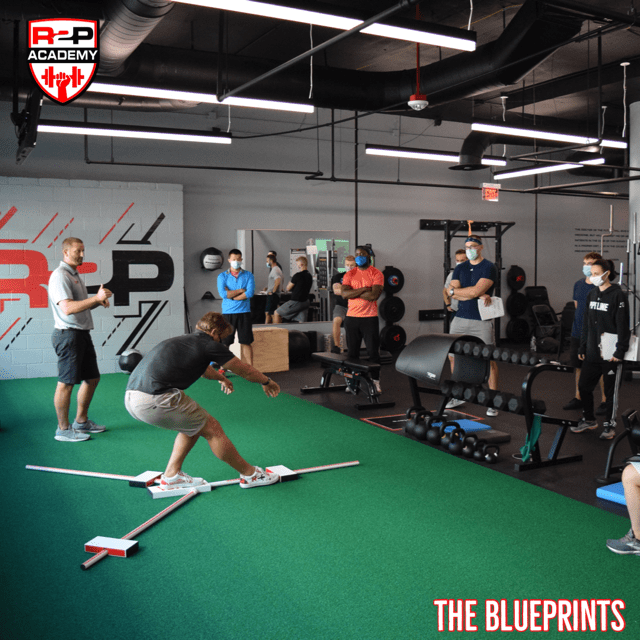 We recommend wearing active/athletic clothes as we will have active labs each day
Schedule Subject to change and adjust to fit parameters of specific course
*Food/Lunch: Please provide your own snacks, food and beverages. We will have a one (1) hour lunch break where you are free to leave the facility for food on Saturday. On Sunday, we will have a 'working lunch' during the lecture portion. Please plan accordingly.
SUGGESTED READINGS & OTHER RESOURCES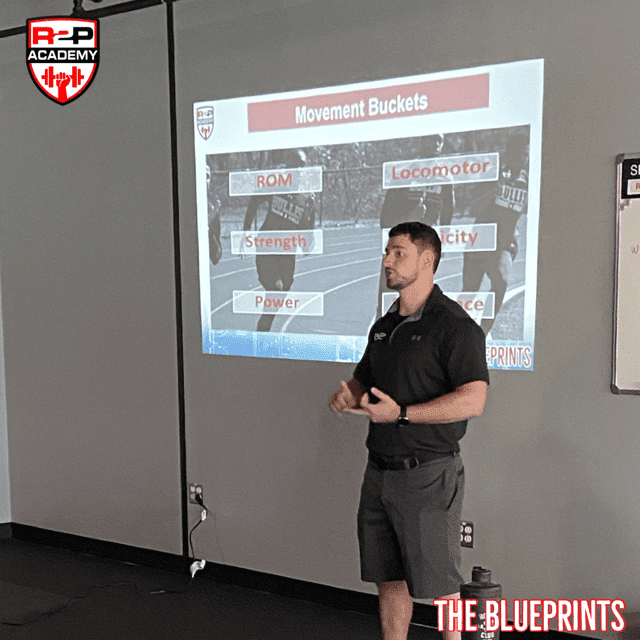 Allen, D., Lamb, G. and Westerblad, H., 2008. Skeletal Muscle Fatigue: Cellular Mechanisms.

Physiological Reviews

, 88(1), pp.287-332..

Anemaet, W.K., & Hammerich, A.S. (2014). A Framework for Exercise Prescription. Topics in Geriatric Rehabilitation, 30(2), 79-101. 

Ardern CL, Taylor NF, Feller JA, Webster KE. A systematic review of the psychological factors associated with returning to sport following injury. Br J Sports Med. 2013 Nov;47(17):1120-6. doi: 10.1136/bjsports-2012-091203

Ardern CL, Glasgow P, Schneiders A, Witvrouw E, Clarsen B, Cools A, et al. Consensus statement on return to sport from the First World Congress in Sports Physical Therapy, Berne. Br J Sports Med. 2016;50:853–64.

Balsalobre-Fernández C, Glaister M, Lockey RA. The validity and reliability of an iPhone app for measuring vertical jump performance.

J Sports Sci

. 2015;33(15):1574-1579.

Benjaminse, A., Webster, K., Kimp, A., Meijer, M. and Gokeler, A., 2019. Revised Approach to the Role of Fatigue in Anterior Cruciate Ligament Injury Prevention: A Systematic Review with Meta-Analyses.

Sports Medicine

, 49(4), pp.565-586.

Bevelin P.

Seeking Wisdom: From Darwin to Munger

. 1st edition. Post Scriptum AB; 2003.

Berlin I. The Hedgehog and the Fox, An Essay on Tolstoy's View of History, Second Edition. Princeton University Press; 2013. 

Bernstein NA. Dexterity and Its Development. Psychology Press; 2015. 

Bittencourt NFN, Meeuwisse WH, Mendonça LD, Nettel-Aguirre A, Ocarino JM, Fonseca ST. Complex systems approach for sports injuries: moving from risk factor identification to injury pattern recognition—narrative review and new concept.

Br J Sports Med

. 2016;50(21):1309-1314.

Periodization: Theory and Methodology of Training. Champaign, IL: Human Kinetics, 1999. Print. 

Bosch, Frans. Strength Training and Coordination: An Integrative Approach. Rotterdam, Netherlands, 2010 Publishers, 2015. Print.

Borresen J., Lambert M. I. (2009). The quantification of training load, the training response and the effect on performance. Sports Med. 39, 779–795. 

Buckthorpe, M., 2017. The time has come to incorporate a greater focus on rate of force development training in the sports injury rehabilitation process.

Muscles, Ligaments and Tendons Journal

, 7(3), p.435.

Butler RJ, Crowell HP, Davis IM. Lower extremity stiffness: implications for performance and injury. Clin Biomech (Bristol, Avon). 2003;18(6):511-517.

 Chang M, Slater LV, Corbett RO, Hart JM, Hertel J. Muscle activation patterns of the lumbo-pelvic-hip complex during walking gait before and after exercise. Gait Posture. 2016;52:15-21. 

Cook, J.L., & Docking, S. (2015). "Rehabilitation will increase the 'capacity' of your …insert musculoskeletal tissue here…." Defining 'tissue capacity': a core concept for clinicians.

British Journal of Sports Medicine, 49

, 1484 - 1485.

Cortes N, Onate J, Morrison S. Differential effects of fatigue on movement variability.

Gait Posture

. 2014;39(3):888-893.

Dalio R.

Principles: Life and Work

. Illustrated edition. Simon & Schuster; 2017.

Davies, George et al. "CURRENT CONCEPTS OF PLYOMETRIC EXERCISE." International journal of sports physical therapy vol. 10,6 (2015): 760-86. 

Dietz C, Peterson B.

Triphasic Training: A Systematic Approach to Elite Speed and Explosive Strength Performance

. 5/28/12 edition. Bye Dietz Sports Enterprise; 2012.

Dhillon, Himmat et al. "Current Concepts in Sports Injury Rehabilitation." Indian journal of orthopaedics vol. 51,5 (2017): 529-536. doi:10.4103/ortho.IJOrtho_226_17 

Dye, Scott, The Knee as a Biologic Transmission With an Envelope of Function: A Theory .Clinical Orthopaedics and Related Research®. 325:10-18, April 1996. 

Epstein, Joshua M. (2008). 'Why Model?'. Journal of Artificial Societies and Social Simulation

Enoka, R. and Duchateau, J., 2016. Translating Fatigue to Human Performance.

Medicine & Science in Sports & Exercise

, 48(11), pp.2228-2238.

Gabbett TJ, Kennelly S, Sheehan J

, et al

If overuse injury is a 'training load error', should undertraining be viewed the same way?

British Journal of Sports Medicine

2016;50:1017-1018.

Gabbett TJ. The training—injury prevention paradox: should athletes be training smarter

and

harder?

Br J Sports Med

. 2016;50(5):273-280.

Gallardo-Fuentes F, Gallardo-Fuentes J, Ramírez-Campillo R, et al. Intersession and intrasession reliability and validity of the my jump app for measuring different jump actions in trained male and female athletes.

J Strength Cond Res

. 2016;30(7):2049-2056.

Gigerenzer G.

Risk Savvy: How to Make Good Decisions

. Penguin Books; 2014.

Glazier PS, Davids K, Bartlett RM. Dynamical systems theory: A relevant framework for performance-oriented sports biomechanics research.

Sportscience

. 2003;7.

Glazier PS. Towards a Grand Unified Theory of sports performance. Hum Mov Sci. 2017;56(Pt A):139-156.

Grindem H, Snyder-Mackler L, Moksnes H, et al Simple decision rules can reduce reinjury risk by 84% after ACL reconstruction: the Delaware-Oslo ACL cohort study Br J Sports Med 2016;50:804-808. 

Hamill J, van Emmerik RE, Heiderscheit BC, Li L. A dynamical systems approach to lower extremity running injuries. Clin Biomech (Bristol, Avon). 1999;14(5):297-308.

 Hamill J, Palmer C, Van Emmerik REA. Coordinative variability and overuse injury.

Sports Med Arthrosc Rehabil Ther Technol

. 2012;4:45.

Harbourne RT, Stergiou N. Movement variability and the use of nonlinear tools: principles to guide physical therapist practice. Phys Ther 2009;89: 267–282. 

Hartman B, Miguel SFS. Optimizing client and student learning from the brain's perspective. J Am Vet Med Assoc. 2017;251(1):33-35. 

Hartman, B.Evolving a Model of Performance in the Realm of Uncertainty. The Reckoning 11/4/2017. 

Heiderscheit BC. Movement variability as a clinical measure for locomotion.

Journal of Applied Biomechanics

. 2000;16(4):419-427.

Helms E. R., Cronin J., Storey A., Zourdos M. C. (2016). Application of the Repetitions in reserve-based rating of perceived exertion scale for resistance training. Strength Cond. J. 38, 42–49. 

Hodges, P. and Tucker, K., 2011. Moving differently in pain: A new theory to explain the adaptation to pain.

Pain

, 152(Supplement), pp.S90-S98.

Hoffman, J. (2006). Norms for fitness, performance, and health. Human Kinetics. 

Ivarsson A, Tranaeus U, Johnson U, Stenling A. Negative psychological responses of injury and rehabilitation adherence effects on return to play in competitive athletes: a systematic review and meta-analysis. Open Access J Sports Med. 2017;8:27-32. doi: 10.2147/OAJSM.S112688. eCollection 2017. PubMed PMID: 28331375; PubMed Central PMCID: PMC5352244. 

Jordan MJ, Aagaard P, Herzog W. Lower limb asymmetry in mechanical muscle function: A comparison between ski racers with and without ACL reconstruction.

Scand J Med Sci Sports

. 2015;25(3):e301-309.

Jovanović M.

Strength Training Manual: The Agile Periodization Approach

. Independently published; 2020.

Khan S, Vandermorris A, Shepherd J, et al. Embracing uncertainty, managing complexity: applying complexity thinking principles to transformation efforts in healthcare systems.

BMC Health Serv Res

. 2018;18(1):192.

Kline, P. W., Johnson, D. L., Ireland, M. L., & Noehren, B. (2016). Clinical Predictors of Knee Mechanics at Return to Sport after ACL Reconstruction.

Medicine and science in sports and exercise

,

48

(5), 790–795. 

Lorenz, D & Morrison, S. (2015) Current concepts in periodisation of strength and conditioning for the sports physical therapist. International Journal of Sports Physical Therapy 10(6):734-747

Loudon JK. Biomechanics and pathomechanics of the patellofemoral joint.

Int J Sports Phys Ther

. 2016;11(6):820-830.

Maestroni, L., Read, P., Bishop, C. and Turner, A., 2019. Strength and Power Training in Rehabilitation: Underpinning Principles and Practical Strategies to Return Athletes to High Performance.

Sports Medicine

, 50(2), pp.239-252.

Malone, S., Hughes, B., Doran, D., Collins, K. and Gabbett, T., 2019. Can the workload–injury relationship be moderated by improved strength, speed and repeated-sprint qualities?.

Journal of Science and Medicine in Sport

, 22(1), pp.29-34

McGonigal, Kelly. The Upside of Stress: Why Stress Is Good for You, and How to Get Good at It. , 2015. Print. 

McKeon PO. Cultivating functional variability: the dynamical-systems approach to rehabilitation. Parsons J, ed.

Athletic Therapy Today

. 2009;14(4):1-3.

Meeuwisse, W., Tyreman, H., Hagel, B. and Emery, C., 2007. A Dynamic Model of Etiology in Sport Injury: The Recursive Nature of Risk and Causation.

Clinical Journal of Sport Medicine

, 17(3), pp.215-219.

Mueller MJ, Maluf KS. Tissue adaptation to physical stress: a proposed "physical stress theory" to guide physical therapist practice, education, and research.

Physical Therapy

. 2002;82(4):383-403.

Munro A.G., Herrington L.C. Between-session reliability of four hop tests and the agility t-test. J. Strength Cond. Res. 2011;25:1470–1477. doi: 10.1519/JSC.0b013e3181d83335. 

Noakes, T., 2012. Fatigue is a Brain-Derived Emotion that Regulates the Exercise Behavior to Ensure the Protection of Whole Body Homeostasis.

Frontiers in Physiology

, 3.

Noehren B, Snyder-mackler L. Who's Afraid of the Big Bad Wolf? Open-Chain Exercises After Anterior Cruciate Ligament Reconstruction. J Orthop Sports Phys Ther. 2020;50(9):473-475.

O'Sullivan K, O'Sullivan PB, Gabbett TJ Pain and fatigue in sport: are they so different? British Journal of Sports Medicine 2018;52:555-556

Page, Scott E. Model Thinking. Coursera. 2018 

Podlog, L., & Eklund, R. C. (2007). The psychosocial aspects of a return to sport following serious injury: A review of the literature from a self-determination perspective.

Psychology of Sport and Exercise, 8

(4), 535–566

Pol, R., Hristovski, R., Medina, D. and Balague, N., 2018. From microscopic to macroscopic sports injuries. Applying the complex dynamic systems approach to sports medicine: a narrative review.

British Journal of Sports Medicine

, 53(19), pp.1214-1220.

Quarrie KL, Raftery M, Blackie J, et al. Managing player load in professional rugby union: a review of current knowledge and practices. British Journal of Sports Medicine 2017;51:421-427. 

Richard P. Feynman, "The Value of Science." In Feynman, R. P. 1999. The Pleasure of Finding Things Out. Perseus Publishing.

Reiman MP, Lorenz DS. Integration of strength and conditioning principles into a rehabilitation program.

Int J Sports Phys Ther

. 2011;6(3):241-253.

Sapolsky, R. M. (1994). Why zebras don't get ulcers: A guide to stress, stress related diseases, and coping. New York: W.H. Freeman. 

Schwellnus M, Soligard T, Alonso J

, et al

How much is too much? (Part 2) International Olympic Committee consensus statement on load in sport and risk of illness

British Journal of Sports Medicine

2016;50:1043-1052.

Shrier I. Strategic Assessment of Risk and Risk Tolerance (StARRT) framework for return-to-play decision-making. Br J Sports Med. 2015 Oct;49(20):1311-5.

 Siff, M. and Verkhoshansky, Y., 1999. Supertraining. Denver: Supertraining International. 

Sigward, S., Chan, M., Lin, P., Almansouri, S. and Pratt, K., 2018. Compensatory Strategies That Reduce Knee Extensor Demand During a Bilateral Squat Change From 3 to 5 Months Following Anterior Cruciate Ligament Reconstruction.

Journal of Orthopaedic & Sports Physical Therapy

, 48(9), pp.713-718.

Soligard T, Schwellnus M, Alonso J, et al. How much is too much? (Part 1) International Olympic Committee consensus statement on load in sport and risk of injury. British Journal of Sports Medicine 2016;50:1030-1041. 

Simpkin AL, Schwartzstein RM. Tolerating Uncertainty - The Next Medical Revolution?. N Engl J Med. 2016;375(18):1713-1715. 

Stergiou N, Harbourne R, Cavanaugh J. Optimal movement variability: a new theoretical perspective for neurologic physical therapy. J Neurol Phy Ther. 2006: 30(3):120-9.

Taberner M, Allen T, Cohen DD. Progressing rehabilitation after injury: consider the 'control-chaos continuum'

British Journal of Sports Medicine

2019;53:1132-1136.

Tetlock PE. Expert Political Judgment, How Good Is It? How Can We Know?. Princeton University Press; 2006. 

Thorpe, R., Atkinson, G., Drust, B. and Gregson, W., 2017. Monitoring Fatigue Status in Elite Team-Sport Athletes: Implications for Practice.

International Journal of Sports Physiology and Performance

, 12(s2), pp.S2-27-S2-34.

Turpeinen JT, Freitas TT, Rubio-arias JÁ, Jordan MJ, Aagaard P. Contractile rate of force development after anterior cruciate ligament reconstruction-a comprehensive review and meta-analysis. Scand J Med Sci Sports. 2020

Verschueren, J., Tassignon, B., De Pauw, K., Proost, M., Teugels, A., Van Cutsem, J., Roelands, B., Verhagen, E. and Meeusen, R., 2019. Does Acute Fatigue Negatively Affect Intrinsic Risk Factors of the Lower Extremity Injury Risk Profile? A Systematic and Critical Review.

Sports Medicine

, 50(4), pp.767-784.

Von Rosen P, Frohm A, Kottorp A, Fridén C, Heijne A. Multiple factors explain injury risk in adolescent elite athletes: Applying a biopsychosocial perspective. Scand J Med Sci Sports. 2017 doi: 10.1111/sms.12855.

Zatsiorsky, Kraemer. Science and Practice of Strength Training. Champaign, IL: Human Kinetics, 2006. Print.29